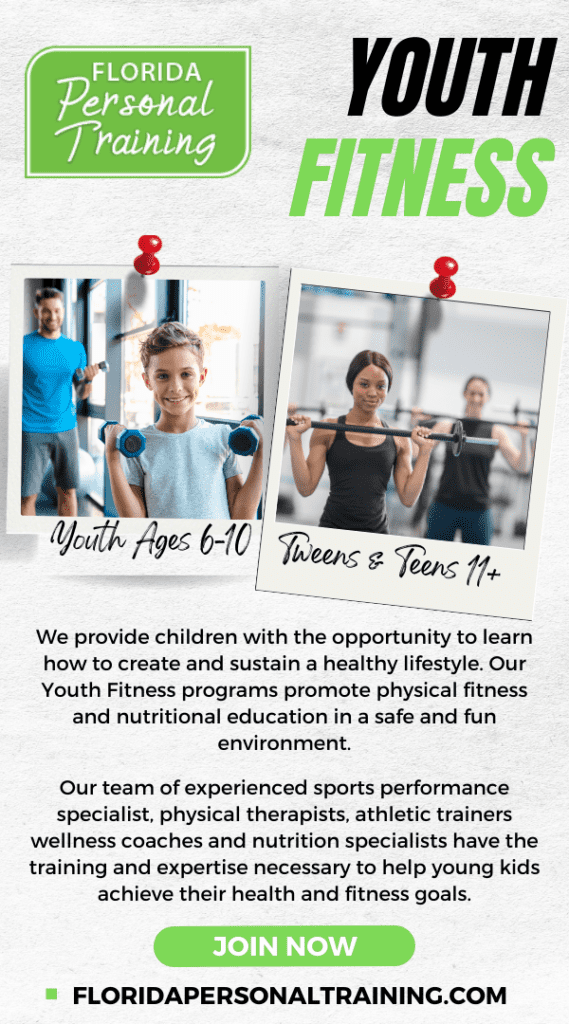 GOOD HABITS FORMED AT YOUTH MAKE ALL THE DIFFERENCE!
Are you worried about your physical health? At Florida Personal Training, we provide children with the opportunity to learn how to have a healthy lifestyle. Our Youth Fitness program promotes physical fitness and nutritional education in a safe and fun environment. The team of experienced sports performance specialists, physical therapists, athletic trainers, and wellness coaches have the training and expertise necessary to help young kids achieve their health and fitness goals.
Our 4 week program encourages kids to be physically active every day and eat a balanced diet of fruits, vegetables and grains (while eliminating poor food choices). The focus is on the benefits of proper nutrition and exercise for life. We work to equip youth clients with the tools they need for life-long wellness.
Free Classes provided by Power Kids Wellness
Tween & Teens Classes 5:30pm – Tuesday & Thursday @ Naples Location
Youth Classes 5:30pn – Tuesday & Thursday @ Bonita Location